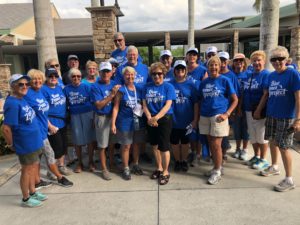 Since this is an outdoor activity, it will continue with it. We will resume walking at different parks every Tuesday, or at your park of choice. We will practice physical distancing and good sanitary practices. You may start your walk as soon as you arrive, so that we're not walking as a very large group.
Mayflower's Walking Moai originated with our Blue Zones commitment. A Moai (moe-eye) is a longevity tradition in Okinawa, Japan. It is deeply ingrained into the social system of the island and is a social support group that start in childhood and extends throughout their lives, often into the members 100s. Even though we're no longer in our childhood, we are creating a new moai!
Another powerful habit of long lived societies is to move naturally. At Mayflower, we have combined these two habits and created our Walking Moai! By extension, we touch on a "Purpose" to get up on Tuesday mornings and we "Down Shift" to reduce the stress in our lives during our walks. To learn more about the Blue Zones, please read About Blue Zones
Mayflower's Walking Moai meets
Tuesday, June 2nd at Freedom Park, by the office entrance.
Tuesday, June 9th at Eagle Lakes, by the main entrance to the walking trails.
Tuesday, June 16 at Sugden Park by the picnic tables
June 23 at Baker Park by the main entrance
June 30 at Greenway Park by the back area of the parking lot
Look for the Blue Zones shirts! If you need a shirt, talk with Janice once you arrive.