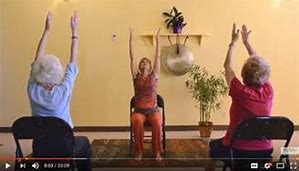 This has been canceled for the time being. If you would like to receive a link to stream a class so you may participate from home, please contact Michelle at michellefalco22@gmail.com
Every Wednesday and Friday at 9:30.
Location: Family Life Center
Cost: $5, the first session is free!
The benefits of chair yoga can range from flexibility and increased strength, to reducing stress and increased mental clarity. But one of the most beneficial aspects of chair yoga is the ability to increase proprioception, which is the ability to recognize where you are in space and coordinating your movements accurately. This is very important in the prevention of falls. The breath work involved can increase lung capacity and when you combine the breath work with meditation, you can help your body and mind cope with the aches and pains life has to offer.
The other side of the experience is the social aspect. It's a great way to meet up with friends and socialize.
It has been documented that after taking weekly chair yoga classes for 2-3 months, people have been found to have a better night's sleep. It has also been found to reduce arthritis, lower back, and sciatic pain.
If you have any questions, call Lou 455-7156.